Hello everyone! Hope you're keeping well as we move into the school year. With bodies bustling around and people traveling to drop off students more frequently, it's important now more than ever to do everything you can to maintain good health and the safety of those around you.
In more recent news, there's more job opportunities in our country, and unemployment numbers are down! 1 million new jobs are in need of filling, and unemployment is down to 5.4%. With job opportunities everywhere, the future is looking bright!
If you want more detailed information, then this information packet will have what you're looking for.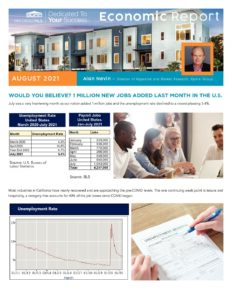 As always, it's great to hear from you. If you have any questions- whether about the information packet, real estate in general, or anything else- don't hesitate to reach out to me!