Hey all! Hope you're staying cool this summer. It's looking to be a hot one, so remember to stay hydrated and make sure your furry friends have a cool place that they can rest.
This month we're looking at the economic report from last month. As the country starts to recover from the Covid Pandemic, the numbers on a country-wide scale are looking up. Unemployment has gone down, as have Initial Unemployment Claims, and the amount of jobs have gone up. In addition, those with a college degree have a low unemployment rate as well.
San Diego's rates are looking good as well, with many of the same trends on a grander scale. In addition, California has a lot going for it- with more venture capital, business starts, and college applications.
If you'd like to see more information on that and more, check out the following PDF!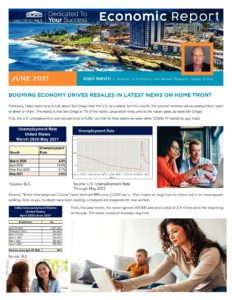 That's all from me for this month. If you have any questions about what you've just read, please don't hesitate to give me a call.